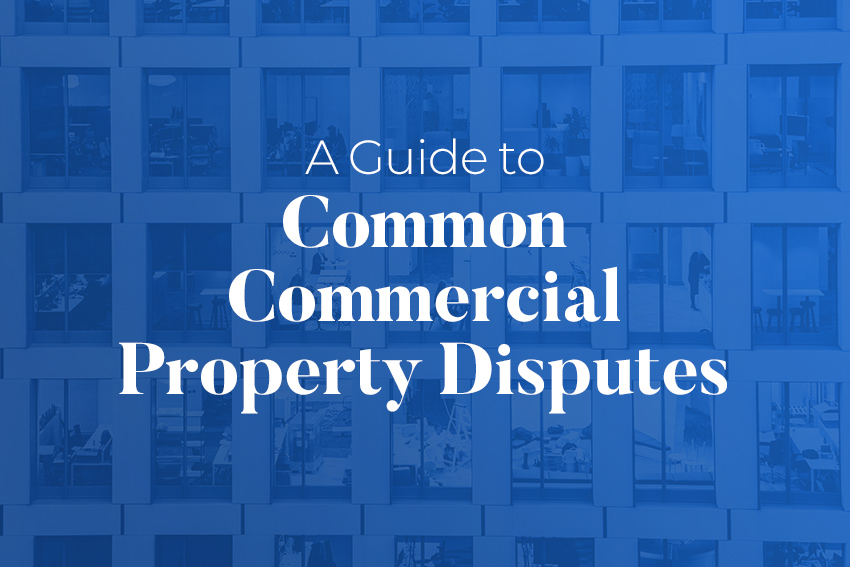 Are you a landlord that has been involved in a commercial lease dispute? Unfortunately, this is quite a common occurrence. Even if you haven't yet been involved in a dispute with your tenants, it's a good idea to make yourself aware of potential issues you might face in the future.
We've covered all aspects of commercial lease disputes, including before during and after the lease ends. This way, you can spot any potential issues and put an end to them before they escalate.
Disputes that can arise during a lease
Rent review
If your commercial property is to remain viable, you will usually want to include rent review provisions within the lease. This will entitle you to review (and increase) the rent as necessary. Because of this, commercial rent negotiations need to be handled with care. You should ensure that the provisions within the lease provide for a defined procedure for the rent to be reviewed. It should initially allow for the rent review to be agreed between the parties and if not then reference to an independent third party such as an expert surveyor or arbitrator.
Lease renewal
You might receive enquiries about extending a commercial lease from your tenant. This is often a more delicate process than rent review negotiations. Sometimes, this might be in the tenants best interest but not in the best interest of the landlord. To bring a protected lease to an end, you should seek the help and advice of your solicitor. A good solicitor can handle the situation with care, and ensure your rights are fully met.
Terminating a commercial lease
Another dispute that commonly arises with commercial property can surround the termination of the lease. Perhaps you (or your tenant) want to terminate the lease before it is due to end. In the tenant-landlord agreement, there can be a break clause to allow either party to bring the lease to an end early if certain terms are met. As a landlord you will need to protect your interests and consider whether you want to allow the tenant to break and if the tenant has complied with all legal requirements in order to properly effect the break. You may also want to consider you own position and whether you can end the lease early to your benefit and obtain a new tenant on better terms by serving a break notice.
Rent Arrears and Breaches of the Lease
Disputes can arise where the tenant falls behind with their rent or are in breach of significant parts of the tenancy. There will often be covenants to require the tenant to behave in a particular way, for example, to carry out repairs to the Property or to prevent them sub-letting the property. If the tenant has fallen behind with rent or breached the Lease you may wish to take action to bring the lease to an end.
This can be a tricky process and you should seek legal advice before taking any steps. It is easy to waive your right to forfeit the lease by your own conduct and you should take advice as soon as possible on any breaches before taking action.
Trespass and nuisance claims
Sometimes, tenants actions can lead to you having disputes with neighbouring owners of land. These are often referred to as nuisance and trespass disputes. This can include a range of disputes from conflict over boundaries to problems caused by noise, leaks or even smells on your property due to the business carried out by the tenants. If your tenant is causing these types of issue then you should seek advice and it may constitute a breach of the lease depending on the terms agreed at the outset.
Common disputes once a commercial lease ends
Dilapidation
Upon termination or expiration of your tenant's lease, they should usually be expected to return the property to its original state – or at least fund the restoration. This can include any decor or branding they have used within your commercial property. If the tenant refuses such repair costs, this is when dilapidations claims occur.
How can we help?
Our expert commercial property solicitors can help with all aspects of your commercial property, from drafting and negotiating terms to disrepair and dilapidations. Dealing with protocol early on can help to prevent disputes in the future. If you're currently experiencing a commercial property dispute, our solicitors can advise and assist you in dealing with the dispute efficiently.
Get in touch by filling in the contact form below or calling 0161 833 0044. Alternatively, you can visit our Manchester or Warrington branches for expert advice.