Executive Member at Abacus Solicitors, Geoff Underhill took time out on Monday to compete alongside football legends past and present, at an unforgettable end of season golf day experience.
Now in its fourth year, the event is always a big hit with supporters of the Manchester United Foundation, which works in some of the most disadvantaged areas across Greater Manchester and uses the passion for Manchester United to educate, motivate and inspire young people. The foundation delivers football coaching, skills training, personal development and life changing experiences, providing young people with opportunities to change their lives for the better.
It was all smiles and everyone was in particularly good spirits after United had recently won back the Premier League title. Last year's event was held the day after the team surrendered the title to their "noisy neighbours" Manchester City, through a last minute injury time winner by Sergio Aguero.
United stars past a present accompany teams and take to the fairways of Dunham's stunning championship course.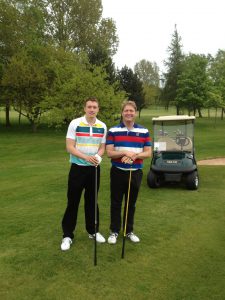 Geoff has been privileged to play Denis Irwin in previous tournaments and this year with Phil Jones, dubbed one of Manchester United's "best ever" players, by Sir Alex Ferguson recently. Also in attendance on the day were first team players Ryan Giggs, Paul Scholes, Jonny Evans, Michael Carrick and Anders Lindegaard.
As a lifelong Manchester United support and now season ticket holder Geoff said "It's a real privilege to play alongside these sporting legends whilst supporting the Foundation at the same time. Hopefully next year we will be having another great golf day for the Foundation and will also celebrating the first of many league trophies under new boss David Moyes"
Proving to be as lethal at putting as he is scoring goals, Wayne Rooney has topped the leader board at previous events, winning both the team and individual trophies. Wayne didn't make the event this year, however, this morning we found out why… congratulations Wayne and Coleen on the birth of your son!