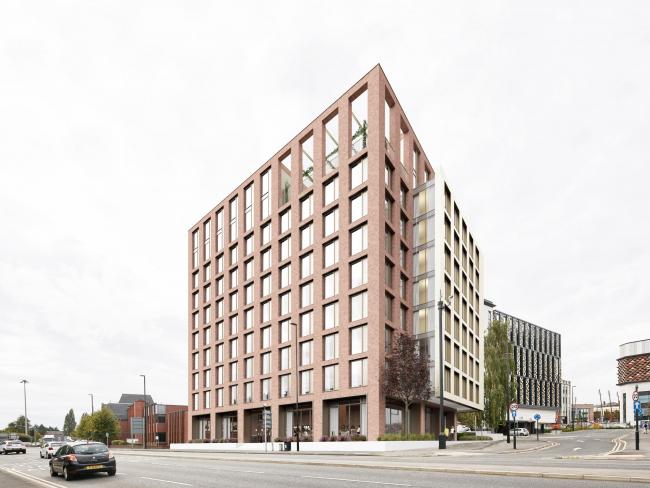 With nine stories of high-end luxury apartments, a brushed aluminium exterior and the town's first rooftop garden, the £15 million pound development on Mersey Street is the first of its kind for Warrington and we're delighted to be involved in the project.
The apartment block is a statement of intent for Warrington as it pursues the scale of residential development seen in neighbouring cities Manchester and Liverpool. In new mock-up images released by developer City Centre Projects, the scheme (designed by Manchester architects Falconer Chester Hall) showcases a selection of luxury features. Rooftop garden aside, there will be brushed anodized aluminium cladding, bronze aluminium windows and sleek perforated panels – all of which will give the building a modern, contemporary look.
See the image at the top of the page for a mock-up of how the apartment block could look (source: Warrington Guardian).
It is full steam ahead for Warrington, a town with a vision to match the standards set in more developed locations like Manchester. Our involvement will see the residential property team assist the project straight on through to its completion, advising on a wide range of commercial property matters.
Managing Partner of Abacus, Geoff Underhill had this to say about the exciting project:
"We know Warrington can support this level of specification. It's designed to match the quality of the regeneration going on around it."
Helping with the expansion of Warrington town centre
An opportunity for Abacus Solicitors to demonstrate its commercial property expertise, the luxury apartments on Mersey Street ARE one of many similar projects that our Commercial Property team have assisted with.
The planning application has now been submitted, and once approved the Mersey Street apartments will be the first of many notable landmarks on the Warrington skyline. Suffice to say that it's a pleasure to be involved in the town's development.
To talk more about commercial property projects, give us a call on 0161 833 0044. Alternatively, you can reach us at our Manchester offices as well as our Warrington offices.