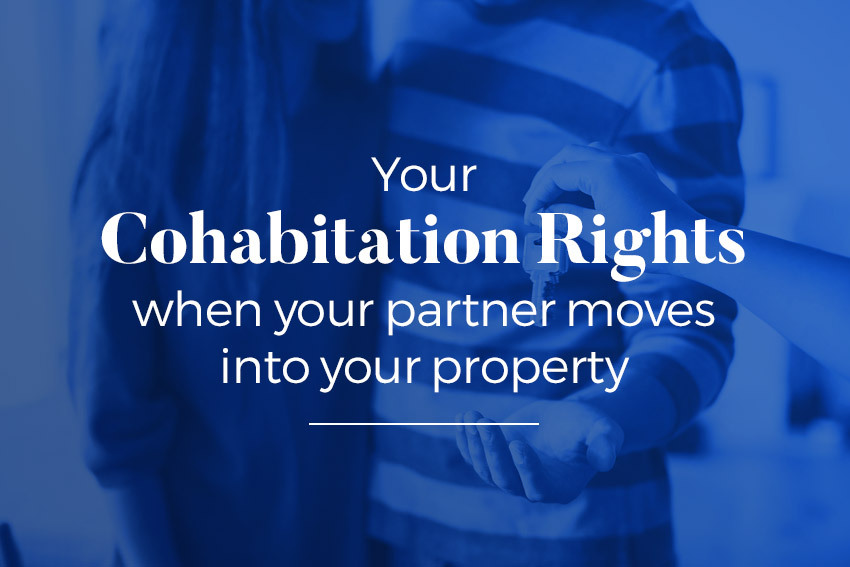 Inviting your partner to move into your property can be an exciting prospect, but you should take time to consider all the risks associated from a legal point of view. Cohabitation rights in the UK are a largely misunderstood area of law, and you'll want to have a good grounding in it before you move into a partner's property.
In our previous two posts of this three-part series on cohabitation rights to property, we looked into your rights when moving into your partner's property and the legal rights for each partner when choosing to buy a property together. In this final post, we will look at your cohabitation rights when your partner moves into your property.
What is a common-law partner entitled to?
It is a common misconception that moving in together means that you will have a common law marriage and therefore have the same rights as a married couple. This is a myth, as a common-law marriage does not have any legal validity in England & Wales. Read on to find out what you should be mindful of if your partner is moving into your house soon.
Does my partner have rights to my house?
When your partner is moving into your property that has your name on the deeds, they may suggest that they begin to contribute to the mortgage, to split the cost of living together and to create a more equal financial standing within the relationship. However, in these situations, should the relationship break up, your partner may have a legal right to an interest in your home and could force you to sell the property when they leave.
The non-owning partner may be able to force you to sell the property or claim part of the monies from a sale if they can prove that they have acquired a 'beneficial interest' in the property. This can arise from contributions towards the purchase price of the property (such as paying towards the mortgage), or even from a conversation, regardless of how vague, that they would have an interest in the property which they have relied on to their detriment. In the latter circumstances, the detriment does not have to be severe and the payment of utility bills or other outgoings could give rise to a claim. If your partner pays for substantial works to the property that would increase the value, then they could also make a claim on that basis.
What is unaffected by my partner moving into my house?
Generally speaking, when your partner moves into your home, the ownership of your possessions, savings, and investments are unaffected. If you owned something before your partner moved in, it continues to be solely your property. After your partner moves in, if you buy something yourself with your own money, it again is your sole property and unaffected by the arrival of your partner.
Should you buy something together, you will both own it based on the ratios contributed to the purchase price, unless you agree otherwise. If your partner has given you something as a present, then you own it, however, proving this can be difficult unless there's written evidence.
Tips for cohabiting couples
Here are some tips for cohabiting couples – these pointers will help you in legal as well as personal circumstances.
First of all, take things slowly. Give yourself time to adjust to the new situation, because this is a big change and big commitment, too.
Think about making a will. There are no automatic rights to your partner's estate on death. If both cohabitees make a will, then arrangements can be made for the other partner.
If you have children, think hard about childcare commitments. Which one of you is going to make the career sacrifice? Can there be a compromise?
Discuss household chores early on.
Think about joint assets, in case the time comes for you to separate.
Discuss general finances early on.
Consider a cohabitation agreement (keep reading)
Cohabitation agreement
A cohabitation agreement is also known as a living together agreement and helps to provide clarity and certainty about your position as the owner of the property when your partner comes to live with you. Before your partner moves in, you will need to discuss who will pay what and whether it is to translate as an interest in your property, or simply as a rental payment. Your cohabitation agreement should touch on three main areas:
Who owns what when the agreement is written up and in what proportions
The financial agreements you have made while living together
The separation of the assets, property, and income should the relationship end

Our specialist cohabitation solicitors will be able to help draw up a cohabitation agreement that both you and your partner can agree on. This agreement will be legally binding, so should the relationship come to an end, both of you will know where you stand and what you're entitled to.

Get in touch with our expert cohabitation solicitors in Warrington and Manchester for help with cohabitation disputes and advice on all aspects of cohabitation agreements.