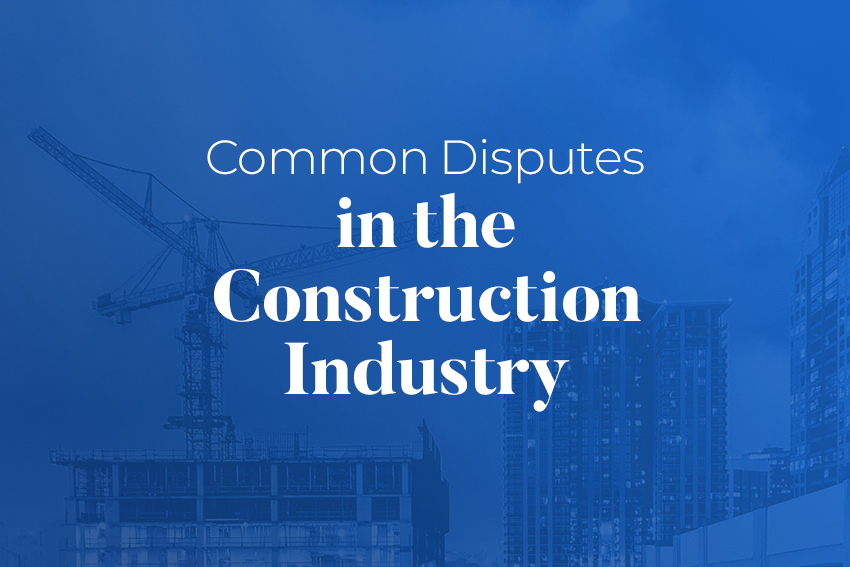 The construction industry has come under fire recently due to its allegedly 'adversarial' nature, something which if true has the potential to fuel a variety of contract disputes.
In an industry where contract disputes are at an all time high and at their most expensive – a report called 'Does the construction industry learn from its mistakes?' estimates the average amount in contention between two parties in dispute was £26m in 2017 – companies in the industry need to make the necessary steps to avoid such costly disputes.
Which is why we've written this article. Here are the most common contract disputes you are likely to encounter working in the construction industry, and what you can do to prevent them from ever happening.
Differing site conditions
When a bid is made on an empty site with the intention of a new build project, that bid is put through on the assumption that the conditions of the site are as advertised in the initial package. However, that's not always the case. Issues like subpar ground conditions would require additional unexpected repairs throughout the build. This is an incredibly common construction dispute.
How do I avoid this?
If you're investing in land on which you want to build, make sure that you attend the viewing and make detailed observations (preferably with an architect or building surveyor).
Noncompliance of contractual obligations
Even the clearest, most well-worded contract has the potential for misunderstandings or confusion. If any involved party (be it a contractor, subcontractor, or employer) fails to meet any required obligations, the party negatively affected will seek recourse which can then easily escalate into a more serious contract dispute.
How do I avoid this?
When your contracts are written up and they exchange hands, it's good business conduct to emphasise the action points of the contract. If you don't, the important sections become little more than unimportant small print.
Simple contract errors
Omissions or errors within a contract happen regularly, yet they can completely derail a project. Most of the time it's a simple oversight, and can be fixed by double-checking a contract before it goes through.
How do I avoid this?
Thoroughly vet all contracts to prevent expensive disputes further down the line.
On site changes
Whilst the construction contract is ongoing and works being completed there will often be decisions being made by both the contractor and the employer that were not envisaged by the original contract. For example, the employer might decide on a different specification of materials or may want to alter their intended plans. On the other hand, a contractor may advise on a more cost effective solution than originally envisaged or problems may be encountered in the practicalities of carrying out the proposed build that would increase costs.
Often decisions are made there and then on site but then when it comes to payment issues can arise and those changes some times may not have been dealt with strictly in accordance with the contract. This can lead to disputes further down the line.
How do I avoid this?
Both parties should try and ensure compliance with the contractual provisions regarding changes. These can often required a period of time between instruction and works proceedings and sometimes are not practical. If the contract provides for changes to be confirmed in writing then the contractor should ensure that is done. As a minimum sending an email to confirm the instruction and when and how it was given should be done. It would also be advisable to have the employer sign a written confirmation of the instruction where possible to avoid debates later down the line.
Delays
There is often a difference between when the investor expects their investment project will be finished and when the building management team expects the project will be finished. If this is the case, it is simply poor communication and a failure to manage the expectations of the other party.
This is a common dispute which stalls every step of the process, like a chain reaction. If there are tenants in place, delays then hold the tenants up which in result prolongs a period in which the investor does not earn back their initial investment (an income which they may have relied on).
How do I avoid this?
If you're the investor, make sure that you're involved in every step of the build process and have a point of contact who can keep you up to date. If you're part of the construction management team, the same applies – maintain communication and ensure that your team stays on schedule.
Project complexity
Where a construction project is deemed particularly complex, a thorough risk assessment must be made before a contract is rendered official. In situations where a risk assessment is not carried out, it can be a fraught and potentially dangerous scenario for all involved.
The best case scenario is that the project takes longer to complete – if a risk assessment is made midway through the build it will add months onto the project. The worst case scenario is that a void contract goes through and is signed – resulting in the collapse of infrastructure which could make a party liable for all injuries or deaths. Not a risk worth taking for anyone involved.
How do I avoid this?
Complete the risk assessment. It could provent a potential disaster, not to mention huge financial losses.
Are you involved in a contract dispute?
If you are having a dispute with your building management team and would like some advice, speak to our construction disputes team today. This is your investment, your money, and your time – let us help resolve the conflict. You can also reach us on 0161 833 0044.