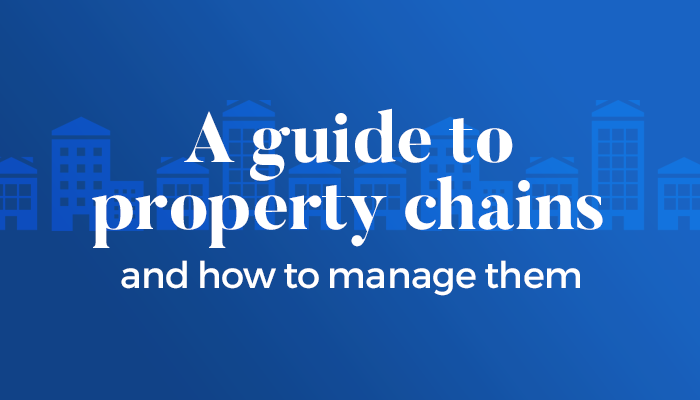 Property chains can be a nightmare to deal with, however, in some cases they are unavoidable. If you're a first-time buyer, it's important you get to know property chains and how to manage them, to avoid getting into any sticky situations with your house purchase.
To help you do just that, we're providing our top tips on the house chain process and how to solve any property chain problems should they arise.
What is the house chain process?
A property chain or 'house chain' begins with someone who is only buying a property, and ends with someone who is only selling a property. The people in between, or the 'links', are people who need to both buy and sell a property.
There is no average property chain length, but there is always at least three people in a chain. In theory, there could be countless people involved in any one chain.
This can be a difficult situation to be in as you end up relying on other people in the chain, which can slow down the sale or purchase of your property. However, with the right tools, you can avoid getting into a house chain altogether, or alternatively, you can speed up the process so that you can move into your new home more quickly.
Potential property chain problems
There are several problems that could occur with a property chain. Identifying these problems early on can help you to avoid getting into any difficult situations. Read on to discover some of the main reasons why property chains collapse:
A buyer or seller has a change of heart

The building survey reveals problems with a property

A buyer can't get a mortgage that matches the offer they proposed

One of the buyers or sellers becomes ill, loses their job, passes away, or splits up with their partner
How to manage a property chain
If you find yourself in the midst of a property chain, follow these simple steps to help the process along and make things run as smoothly as possible.
Employ an experienced, high-quality solicitor and conveyancer
For the most part, it's the job of the professionals to keep the communication between the members of the chain. Therefore, it's crucial to employ the right people from the outset.
Here at Abacus Solicitors, we have over 60 years worth of experience over a range of legal disciplines, including residential property law. This should give you peace of mind that your property purchase or sale is in the right hands.
If you need assistance with a property chain or any other property related queries, contact our Manchester or Warrington office today.
Get your finances in order early on
Whilst you can't control the finances of other members of the property chain, you can get your own finances in order as early as possible, to prevent the process from slowing down.
Keep a dialogue flowing between your representatives
This is the best way to speed up the process if you find yourself stuck in a property chain. Keeping in a constant dialogue with your representatives allows you to know exactly where the property chain process is up to, and you can also ask if there's anything that you or they should be doing to help the process along even further.