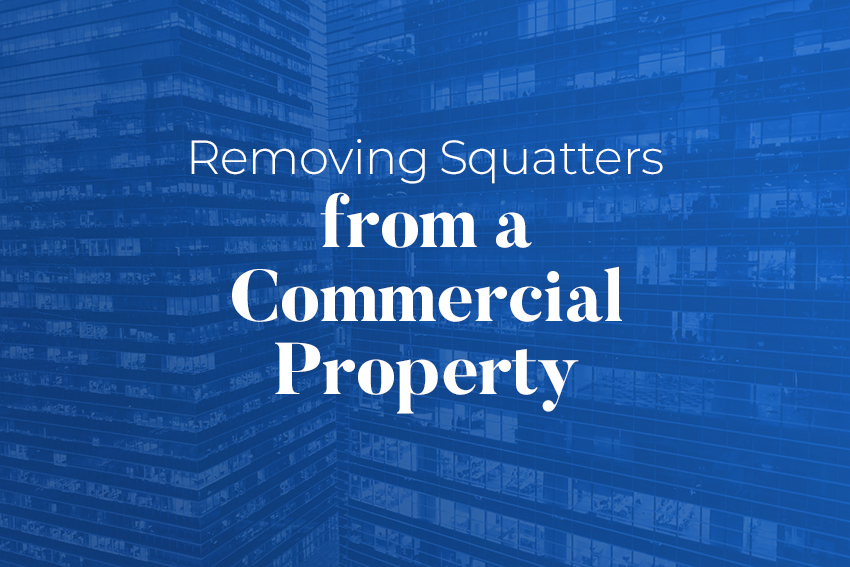 People squatting in your property feels frustrating and unjust, particularly if the property is intended for commercial purposes and you have businesses lined up to take up tenancies. The key to resolving the issue is understanding what each party (you, the landlord, and the squatters) are allowed to do.
Our blog will advise on how you can go about removing squatters from your private property in a respectable and, above all, lawful fashion. Since squatting in residential properties was made illegal in 2012, there has been an increasing number of squatters moving into commercial properties. Here's how you can mitigate the risks.
First of all, can you get the police involved
The most expedient way that you'll clear your property of squatters is by getting the police involved – however, the police can only take action if the squatters commit the following crimes:
Stealing from the property
Fly-tipping
Disobeying a noise abatement notice
Causing damage when entering the property
Causing damage while in the property
Not leaving when told to by a court
Using utilities (like gas or electricity) without permission
Remember that since simply being on another person's non-residential property (classed as a building or plot of land not designed to be lived in) is not considered a crime, you'll need to be aware of the above offences.
A closer look at commercial property law
If the above does not apply and you cannot find any evidence of wrongdoing, you need to get familiar with what the law states regarding squatters in a commercial property.
The aforementioned legal changes (the introduction of Section 144 of the Legal Aid, Sentencing and Punishment of Offenders Act) improved squatting situations for residential property owners but has, unfortunately, left many commercial property owners in the lurch.
The LASPO legislation does not extend to non-residential buildings. Therefore, the landlord will have to resort to civil law and obtain a court order to evict the squatters (unless, of course, they have committed any one of the offences outlined above).
Problems faced by commercial property owners
Squatters are a problem for commercial property owners, and one that isn't so easy for them to overcome. For commercial landlords with an empty property, the issue is of paramount importance. The landlord will have to pay full business rates without tenants there to cover the cost – an empty property in this case is extremely expensive.
The longer the property remains occupied by squatters, the longer the landlord has to endure this 'void period' (to borrow a term better known among residential property landlords).
What can you do? Apply for an interim possession order (IPO)
An interim possession order is a swift way in which landlords can recover their property. Once an IPO has been granted, the landlord can sanction police or private bailiffs to vacate the premises. Once the squatters have been served with an IPO, they have to vacate within 24 hours.
What are the requirements for IPO?
There are not that many requirements. An IPO must be made within 28 days of the date that the landlord first became aware of their commercial property being occupied without permission. An IPO does not apply to open land.
How do I get an IPO?
Send an IPO claim form to the relevant Court nearest to you, as well as an IPO application. Once the Court has processed the application, a hearing will be arranged. Get in touch with our commercial property team for more advice about the process.
Tips to prevent squatters from occupying your property
Here are some preventative measures that you can take to ensure that squatters cannot move in on your commercial property.
Make sure that any of your unoccupied buildings are as secure as they can be – they need to be alarmed, too.
If a tenant in your property moves out, leaving the property vacant, then you need to act quickly. If you give squatters a window of opportunity, even the shortest 'void period' between tenancies can be dragged out for months. As soon as you know your property is vacant, secure the premises.
Carry out regular checks on the property.
Check your insurance package to see if cover is provided for intrusions, break-ins, or any other damage-related costs.
Speak with your insurance provider to see if a risk assessment should be carried out.
Turn off and disconnect utilities.

Get in touch if you need support

As we've said, for commercial property landlords the situation is often stressful and incredibly expensive. Take heed of the above advice and, if you need further legal guidance, please get in touch. You can also take a look at our business legal services page for any extra information.