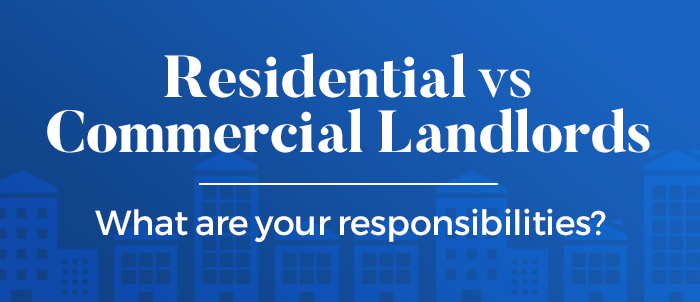 Residential property investment varies significantly from commercial property investment, and so too do the responsibilities for residential landlords compared to commercial landlords.  The option you choose can impact your lifestyle in different ways, therefore, it's important to assess both options to ensure you're making the right decision for your next investment.
Fortunately, we've done the hard work for you and taken a close look at the key differences between commercial landlord responsibilities and residential landlord responsibilities. Read on to discover which could be the right option for you.
What are the key residential landlord responsibilities?
As a residential landlord, there are a number of legal obligations that you will need to adhere to. These are not only in place to keep you, your tenants and your property safe, they can also protect you if any disputes or lawsuits arise further down the line. Here are some of the main responsibilities of private landlords that you should know of.
Health and safety in the home
Residential landlords are responsible for making sure that the property is free from health hazards and is safe to live in. Some of the tasks you will have to carry out in order to make sure the property is safe include:
Fitting smoke alarms and carbon monoxide alarms.

Checking the electrics and appliances within the home are safe.

Making sure gas appliances are fitted by a Gas Safe registered engineer and that these are checked regularly.
Residential landlords are also responsible for repairs on these areas, as well as repairs on common areas of the home.
Rent
You'll have to follow certain rules in regards to rent when you become a residential landlord. The residential tenancy agreement between you and your tenant should outline how and when you'll review the rent, however, this can vary depending on what type of tenancy agreement you have.
If you have a periodic tenancy, you can only increase rent once a year, whereas if you have a fixed-term tenancy agreement, you can only increase the rent if it's written into the agreement; otherwise, you'll have to wait until the agreement ends.
What is a landlord responsible for in a commercial lease?
Commercial landlords have different responsibilities to residential property landlords. The 2007 Code for Leasing Business Premises in England and Wales offers some guidance on these responsibilities, the main points of which we have summarised below.
Health and safety
You'll be responsible for making sure the commercial property you're leasing is safe to work in and free from hazards. This includes:
Making sure any fixtures and fittings you have installed are safe to use.

Making sure the property is inspected regularly by registered gas safety and electrical safety engineers.

Making a note of any asbestos in the building in the risk assessment and managing this properly.
Similarly to landlords of residential properties, you'll be responsible for most of the key repairs and restorations on your commercial property.
The Commercial Property Landlord and Tenant Act (1954)
The landlord and tenant act (1954) applies to all commercial leases, so you'll need to get to know the regulations before taking on a commercial property investment.
Essentially, this act states that commercial tenants are allowed to stay in the property, even when the commercial lease agreement comes to an end. However, this only applies to commercial properties that are occupied for business purposes, and whereby there is a tenant occupying a building and there is a tenancy agreement in place.
To summarise the main differences between the responsibilities of commercial and residential landlords, we've put together the chart below: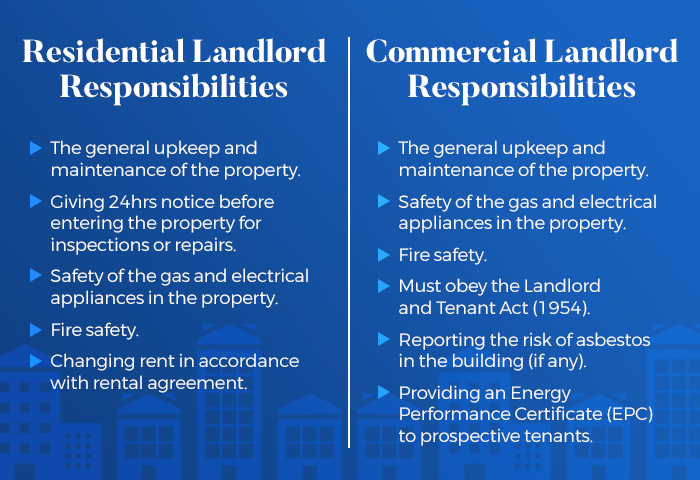 If you're looking for a new investment opportunity and you're not sure whether to go for commercial or residential investment, why not get in touch with one of Abacus Law's property solicitors? We have a team of commercial and residential property solicitors that can advise you on the best path for you and assist you throughout your investment. Get in touch with our Manchester office or Warrington office today.