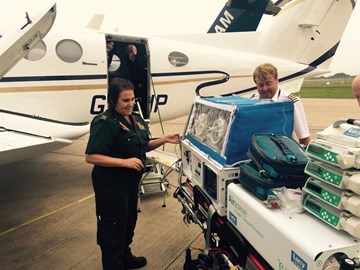 On the 9th September, a member of our fantastic Stockton Heath team, Joan, will be Skydiving with her daughter, Jenny, and her friend Katherine to help raise money for Lucy's Air Ambulance for sick children
Why Lucy's Air Ambulance?
Lucy's AA were absolutely fantastic when they helped transfer Joan's grandson, Lucas when he was born 9 weeks early from Wigan back home to London. They are the only charity that can facilitate the travel of children across the length and breadth of country, due to their fixed winged planes, all provided at no cost to the family
Lucas was so small & tiny and needed specialist care and they offered to help Joan and her family. Lucy's air ambulance was amazing and took control of everything that needed to be done.
How you can help
There is a target of £5000 to raise towards the cost of his transfer ( which was over £9000 ). It's to help give something back and to say a big thank you to everyone at the charity, so far they have raised a staggering £3389.69 with various events and raffles
Lucas is 9 months old now and doing very well. He is a super smiley little boy and always laughing. Recently Lucas was one of the stars in Lucy AAC's new promotional video. Take a look here: https://youtu.be/BwGoMVQ__Go

You just never know when you may need Lucy's Air Ambulance, we hope you never do, but if you could sponsor Joan, Jenny, and Katherine, you really would be sponsoring a great cause.
If you would like to support Jenny and the team in their fantastic endeavor please see their fundraising page here.
By sponsoring this great cause, you will also be entered into a raffle prize from Doodles & Scribbles
The prize:
1 x Activity & Book Box which includes:
– A first-edition, signed copy of Parrots Don't Live in the City!
– Bird match: a memory tile game featuring native birds
– Birdie's dinner: Help birdie hunt for his dinner during your next nature walk using our scavenger hunt cards
– Follow that bird: Take a quiet moment to observe a local bird and capture his exploits within your own story booklet
– Racing birds: Everything you'll need to fold and race flying origami birds
Our activity boxes are suitable for children over the age of 3, and designed for a family or group of 2-4 children.