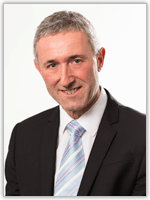 Position – Consultant Solicitor
Howard joined Abacus in May 2014, as a Senior Consultant. He was looking for a new challenge after working for over 30 years in the firm, Gruber Garrett, which he established initially in Ashton under Lyne in 1980. Howard previously set up and managed a thriving Commercial Property team, managing some of the most complex matters whilst building a strong reputation in the industry as well as with clients he worked with.
Howard prides himself on offering advice to clients in a "down to earth" way and therefore found that Abacus Solicitors was the perfect fit. Since starting  he has settled into Manchester city life well (after 30 years in Ashton under Lyne) and is thoroughly enjoying my time with the fantastic team in the firm.
Howard has a wealth of knowledge in most aspects of property work and business transactions. Many come to him, not just for simple transactions but for the most complex. His work involves working regularly with property investors, landlords and small to large businesses and he understands that no two commercial property matters are the same and no two clients are the same.
e: h.gruber@abacus-law.co.uk t: 0161 833 0044 f:0161 833 4004