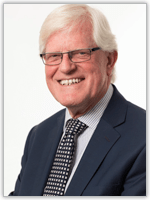 Position – Consultant Solicitor
Department – Property
Keith Mather graduated with a degree in law from Kings College London in 1969 along with a diploma in Theology. After qualifying as a solicitor in 1973 he then founded his own practice in the city of Chester during which time he acted for numerous major national house building companies including Barratt, Bellway, Wainhomes, and Bovis in connection with their land acquisitions and plot sales.
In 2005 Keith became a director of a development company whilst retaining his consultancy role as a solicitor in Manchester. He then subsequently adopted a full time role as Company Secretary of the development company in 2008 just after it floated on the AIM market.
Keith has vast experience over nearly 40 years, in handling complex property transactions not only as a lawyer but also as a director of a property company.
Over the years Keith has chaired a private/public sector partnership and has worked closely with local businesses. He was also a founder member of the successful Chester Business Club which he consequently chaired for, for many years.
Keith joined Abacus Solicitors LLP in June 2011 since which time, he with his team, have concluded several successful transactions including the acquisition of two redundant paper mills in Lancashire and the subsequent sale of one of them; the renegotiation of section 106 agreements and the negotiation and conclusion of option agreements for the acquisition of residential development land.
Keith continues to practice as a Consultant Property Solicitor with Abacus in Manchester.
 e: k.mather@abacus-law.co.uk          t: 0161 833 0044          f: 0161 833 4004