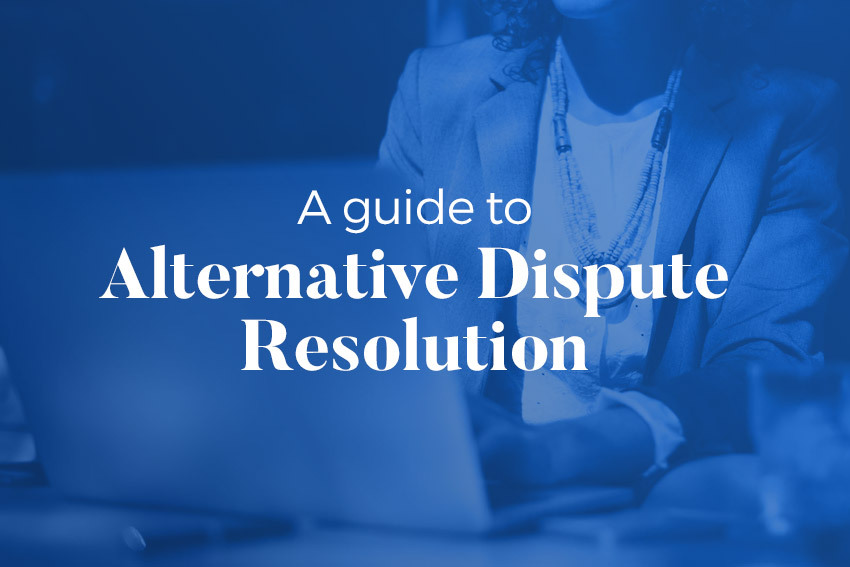 Disputes of all natures often come with a lot of stress, time and effort, which is why it's best to resolve them as soon as possible. However, taking someone to court can prolong the dispute and so it's often better to consider alternative dispute resolution (ADR) as early as possible.
ADR can be used before going to Court or sometimes during the Court process, but if you're considering ADR, then read on to learn more about the process in the UK and how it can help your situation.
Alternative Dispute Resolution in UK law
In the UK, no matter the nature or size of the dispute, ADR can be used to solve a wide range of problems. For example, this method can come in handy with issues such as boundary disputes and professional negligence claims.
The process simply involves asking someone impartial to look at the problem and help both parties to find a solution without the need for litigation.
Some of the different types of ADR include:
Mediation

Adjudication

Arbitration
The option you go for will largely depend on the nature of your dispute, and your alternative dispute resolution solicitor will work with you to find out which option is the right one for you.
Read our guide on ways to streamline your dispute for more information.
The types of alternative dispute resolution
As mentioned above, there are a few different types of ADR to consider. Read on to learn more about each of these processes.
Mediation
Mediation is a negotiation process that aims to solve the problem or dispute at hand. It involves the appointment of an independent person to act as the Mediator. They are specially trained in dealing with mediations and each will have their own methods of assisting the parties to resolve the dispute. Mediators costs can vary significantly so having a solicitor advise you as to the level of mediator required is important.  
Mediation normally involves the mediator being given information beforehand, regarding each party's position and then discussing the position with the parties, sometimes jointly but usually separately, and then going from each party to the other to discuss the claim to try and facilitate a settlement between the parties.
Mediation is often effective at resolving disputes but can often assist where the parties are in difficult disputes in cutting through the difficult legal issues and reaching a pragmatic resolution.   
Adjudication
Adjudication is an alternative dispute resolution method mainly used in the UK construction industry. This involves resolving issues with things such as construction delays, breach of contract and professional negligence.
This is usually a more informal process than other methods of ADR, and the adjudicator is usually an expert in the dispute area.
The parties usually contractually agree to refer matters to Adjudication and how that appointment is to be made.  There is then a process of information exchange that is followed so that the Adjudicator can consider the parties points and then arrive at a decision.
Arbitration
Arbitration involves an independent arbitrator making a decision on your complaint or dispute.
Both parties will send information about the dispute to the arbitrator on paper, who will then look at both sides and come to a decision. Unlike the other alternative dispute resolution methods, you won't be able to take the other party to court if you don't agree with the end outcome.
Alternative dispute resolution advantages
One of the key advantages of ADR is that it doesn't necessarily involve going to court and in any event means the parties can resolve the matter before any expensive trial takes place. Litigation can be a time consuming and costly process, which ADR aims to avoid, all whilst helping you to reach a settlement at the same time.
If you need help resolving your dispute, Abacus Solicitors can help. We have an excellent team of alternative dispute resolution solicitors based in Manchester and Warrington, who can walk you through the process and help you reach your desired solution. Get in touch today.